Meet "Kiana Madeira Husband Lovell Adams-Gray" On September 2023, Kiana Madeira and Lovell Adams-Gray, who have been engaged for three years, said "I do" in front of 200 guests in Toronto.
After six years of dating, the actors finally took their relationship to the next level and tied the knot.
The wedding of Kiana Madeira and Lovell Adams-Gray was like something from a fairytale
Kiana Madeira Husband Lovell Adams-Gray: Wedding Photos
On September 10, 2023, Madeira and Adams-Gray exchanged wedding vows at Casa Loma in Toronto.
In an Instagram post, the pair wrote: "It was everything we prayed for, and more. We are officially Mr. & Mrs. Adams-Gray."
Their "ethereal royalty" wedding theme was the perfect fit for the castle-style mansion, Casa Loma, where they got engaged in January 2020.
According to the People magazine, the Fear Street actress said, "It was a fairytale." While her actor husband said, "It was everything we hoped for and more."
With a custom-made matching Tania Maras veil, Madeira completed her bridal look by wearing an off-the-shoulder lace and tulle gown by Luca Sposa.
"I loved this dress as soon as I saw it online and tried it on at Liza Ray in N.Y.C. just solidified my love for it," she told the outlet.
In addition to her custom Tania Maras pearl choker and earrings, she wore pearl-covered Charlotte Mills shoes.
Soenen Sisters played Justin Timberlake's song 'Pair of Wings' as the actress walked down the aisle.
Adams-Gray, however, wore a custom-made white three-piece suit from Alan David Custom Suits N.Y.C. and dress shoes by Luca Del Forte.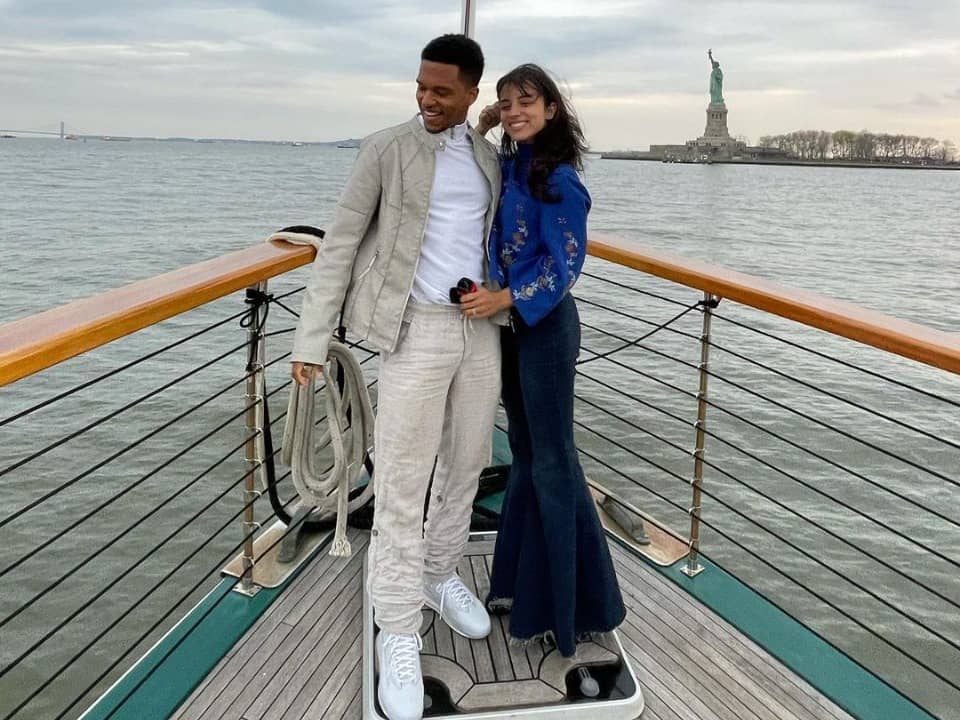 The couple's wedding was officiated by Pastor Samuel Kenga, and they signed the register in front of their close family and friends.
As the newlyweds changed their outfits for the reception, the actress wore a halter dress and her husband wore a purple and white suit.
Dinner consisted of salad, ravioli, 72-hour braised short rib, and dessert for the guests.
On September 24, 2023, the actress shared lovely pictures of her honeymoon in Portugal, writing, "Our first travel experience as husband and wife."
Lovell Adams-Gray and Kiana Madeira have been together since 2017
In 2017, Adams-Gray finally asked Madeira to be his girlfriend after they met during an NBA All-Star weekend in 2016.
The After Everything actress announced her engagement news via Instagram in February 2020 after dating for several years.
"Your words are my serenity, and this love inside of me is bursting at the seams," she wrote.
While Adams-Gray was filming Power Book II: Ghost in 2020, Madeira moved to New York City to be with him. Taking advantage of the opportunity, he proposed to Adams-Gray.
Adams-Gray's apartment had a large cardboard box in the living room and stargazer lilies leading to it.
Upon opening the box, she found Adams-Gray down on one knee with a stunning ring in his hand. He proposed right away, and she said "yes.".
Lovell Adams-Gray: The Doting Partner
Lovell Adams-Gray, known for his chiseled features and captivating on-screen presence, is much more than just a talented actor. He is the embodiment of a doting and supportive partner. His dedication to Kiana's personal and professional growth is a testament to his unwavering commitment.
As Kiana Madeira continued to ascend in her career, earning accolades for her stellar performances, Lovell Adams-Gray was often seen by her side at premieres, award ceremonies, and industry events. His unwavering presence served as a reminder of the rock-solid foundation of their love.
Kiana Madeira: A Rising Star
Kiana Madeira, the ethereal beauty with a magnetic screen presence, has carved a niche for herself in the fiercely competitive world of Hollywood. Her talent and determination have earned her critical acclaim and a legion of fans worldwide. Amidst the spotlight, she has found solace in the arms of Lovell Adams-Gray.
Their relationship has not only flourished but has also become an inspiration to their fans and peers alike. In an industry where relationships are often fleeting, Kiana and Lovell have demonstrated that love, when nurtured with care and respect, can withstand the trials and tribulations of fame.