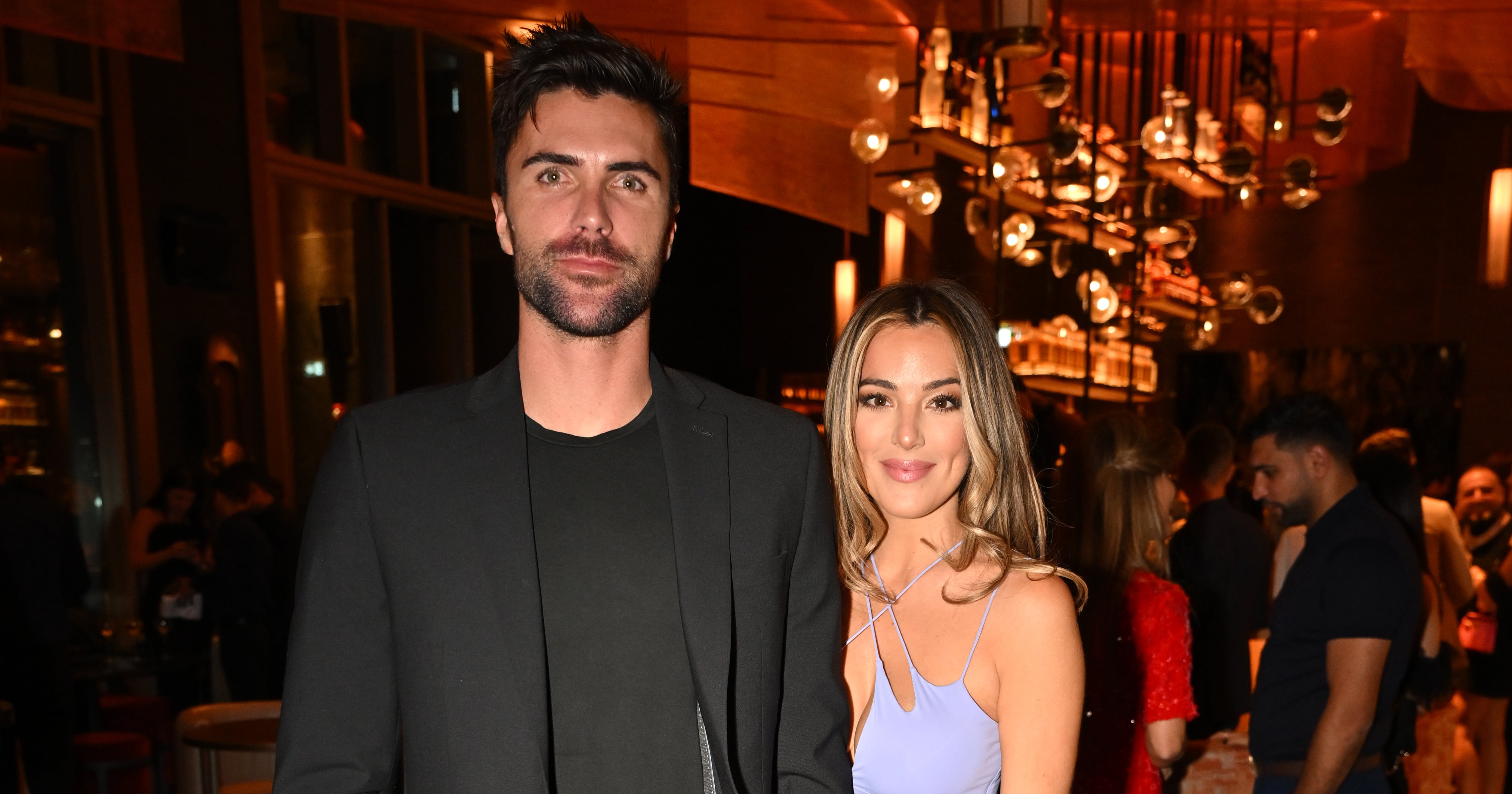 Ever since Tyler Stanaland and Brittany Snow announced their split after two years of marriage in September 2022, the status of Stanaland's relationship with his "Selling the OC" costar Alex Hall has been thrown into question.
Throughout season one of Netflix's hit show "Selling the OC," Stanaland and Hall's friendship became a major topic of conversation, with many criticizing their flirtatious behavior and calling it "inappropriate." At the time of Stanaland and Snow's separation, a source told People that their breakup was caused by him being on the show. "Brittany never wanted Tyler on the show but he was adamant," the source told People. "He wanted to make a name for himself on his own terms."
Another insider told the outlet, "They're fully over. All of the girls [on the show] are obsessed with him. He's been trying to be really respectful but it's taken a toll on his marriage 100 percent."
Though Hall and Stanaland maintained that they're just friends, they were spotted getting close at a sushi restaurant in Corona Del Mar, CA, on the same day his divorce was announced, as seen in photos published by TMZ.
In December 2022, Hall debunked the dating rumors in an interview with Us Weekly, saying, "It literally never crossed my mind until it became the headlines on every freaking news channel after the show aired."
"Tyler's going through so much right now. I can't speak for him, but I know when I went through my divorce, dating wasn't even on my radar whatsoever," she added. "Like, dating for me is just another chore. And at this point, Tyler and I lean on each other in our friendship."
A month later, Hall and Stanaland traveled to Dubai together for the grand reveal of the city's newest hotel, Atlantis The Royal, where Beyoncé notably performed. And in August, Stanaland gave E! News an update on their relationship, saying, "Alex Hall and I are great." He continued, "She has been somebody that's been, you know really influential during this time and helped me out in a lot of ways and taken me to dinner when I needed it most. And she's been a really good friend."
Season two of "Selling the OC" provided some clarity as well. Ahead of the premiere, during his interview with E! News, Stanaland was asked whether viewers would see Hall as a hero or villain when the show returned with new episodes, to which he responded, "I mean, in my storyline she's a hero. I think for the story as a whole that's up to the audience to decide but she's been really great to me."
Throughout the season (which was filmed in early 2023), Hall and Stanaland's relationship was a hot topic, with other cast members openly questioning if they're together. Both swore they weren't, but they spent a lot of time together, with Stanaland even coming over to meet Hall's family members. But she repeated that they're just "very good friends," and Stanaland said he's not ready to get back into dating post-divorce. It's also revealed that during the 2022 Christmas party, Stanaland made out with fellow realtor Polly Brindle in the Oppenheim Group office.
But at the end of the season's last episode, Hall and Stanaland attended Brindle's birthday party (which took place in April) and they ended up together alone in a hot tub. They talked about their friendship, and Stanaland said that Hall has "been there" for him during his divorce and that he's started "thinking about" her in a romantic way. He admitted they've always had a "very flirty relationship," and that he has feelings for her. Hall said she's "on a mission to find a f*cking husband" and she's not "looking for something casual" and needs to look out for her kids. Stanaland said he was on the same page and that he loves "everything" about her. Hall said they were "opening Pandora's Box," and then they kissed. The episode (and season) ended there.
So, where do Hall and Stanaland stand now? Well, it looks like they're still just friends. Speaking to Us Weekly in September, Hall said, "You see throughout season two the dynamic of our friendship, and it's easy and it's comfortable because there it is, just that. It's a friendship." She continued: "There's no strings attached and I think adding that other element is scary. … Some things are awkward, you know what I mean? And you can't avoid it. So we're just navigating."
Stanaland added, "It's both a blessing and a curse to explore a relationship that starts out as a friendship. There's a lot of things that come with it and there's a lot more at stake as well."
On Sept. 27, Entertainment Tonight also published photos of Hall kissing a man who wasn't Stanaland, though her relationship status remains unclear. Meanwhile, it's unknown if Stanaland is currently dating anyone at the moment.
Also Read More: World News | Entertainment News | Celeb News

Source: PSugar